The brand
MOJO RISING STUDIOS was incorporated in 2014. It is the brainchild of Badrul Hisham. What started as passion for design many years ago, with the same name for personal branding, has been realised into the formation of a company.
At Mojo Rising Studios, we follow the Confucious philosophy; "Choose a job you love, and you will never have to work a day in your life." With this drive and passion, we execute our work bestowed upon us with pride and joy.
The three Afro heads
​
The three heads have followed Badrul everywhere he went. If there were any messages to be passed, an Afro head cut-out sticker would accompany that written message; even on his personal email. It was equivalent to his stamp
of approval.
The heads have been Badrul's most recognisable trademark pieces, and certainly will be the company's most definite feature too, for many years to come.
The name, the logo
An era described by many as
wildly eclectic. The transition
period from the 1960s to the
1970s saw many explorations
and innovations. Fashion was one
of many facets that saw bold developments in colour use. The hippie movement gave rise to freedom of expression in more ways than just protests and drugs.
Although the name sounds very much like the song "L.A. Woman" by Jim Morrison of the Doors, it has an entirely different meaning. Instead of a charm or a spell, mojo in our terms mean "sexual appeal". A subject or object that exudes sexual appeal will evoke a sense of curiosity which can eventually create a want or a need to the said object. Hence the meaning was directed at how we portray our results; that they become an object of desire.
The logo reflects the personality of the founder, who was born and raised in the seventies.
The colours used in the logo were all derived from the basic cyan/magenta/yellow/black (CMYK) colour gamut from the print production process. It clearly states the initial direction that we had in the formation of the company, print design, but later encompass a wider range of services in the digital sector. The colours are bright, simple and loud. The typeface used is bold in nature; just like how we will communicate our clients' pieces.
Badrul Hisham, or Bad as he likes to be called, has been in the creative industry for as long as he can remember. With more than 17 years of experience under his belt, he is highly regarded by his peers in the creative industry. He is a practical person but is
not afraid to propose new avenues
of creativity.
Badrul graduated
with a Diploma in
Graphic Design in
2000 and
proceeded to gain
experience in various publishing and advertising firms as an Art Director,
and later as a Regional Design Lead (Asia Pacific) in a well-reputed multinational company where he led the creative department for a good number of years. He obtained his second Diploma in Multimedia Design in 2008 to further boost his arsenal of skill set and upkeep himself to the relevant
market demand.
As a designer, Badrul's capabilities stem from his diversity of experience across the design sector. He manages all projects with great attention to detail and possesses intimate knowledge of all production processes.
Having worked directly with a wide
range of CLIENTS, he has a brilliant understanding of
clients' needs. This
translates to his
ability to creatively
package effective
messaging with
purposefully adapted
product/corporate branding, elements instrumental for the growth of the
company design function into a full-fledged studio, which he headed.
Tapping on the network of suppliers and contacts around the world, Badrul is able to effectively propose suitable media for clients' projects, and plays a pivotal part in business development and project delivery.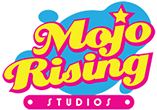 CONTACT
Get in touch with us!

We would love to get to know you better!
From the rising brand executives,
to the visionary CEOs; WE ARE UP FOR IT!
If you are facing any creative problems that you have been scratching your head upon, do not hesitate to drop us a line. Email us, or simply fill in the form in this section, and we'll get back to you as soon as we can.

Copyright © 2017; Mojo Rising Studios. All rights reserved. B/No.53260772D